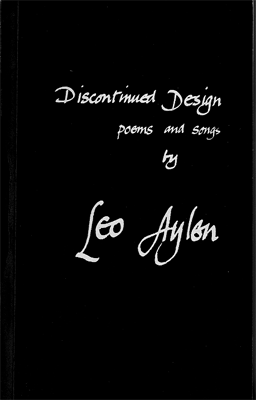 Discontinued Design
Leo Aylen's first collection, built round the title poem, evokes the noise and garish colours of big city London.  Discontinued design is a common expression in department stores. After a while a product is abandoned, and the design discontinued, perhaps because the product is no longer providing large profits, but sometimes because the people in charge just want a change. Aylen makes this a metaphor for the way in which people are discarded by a culture which values glitter above all else. A lot of the book is laughing at the excesses of contemporary commercialism. Discontinued Design itself starts as farce, but turns on the spin of a foot into a scream of despair. It has been very successful in performance. At a 9.00 pm to 6.00 am, poetry marathon in the Round House, packed with an audience of over 2000, and with over 100 poets participating, Leo, going on stage at 3.00 am, was the only poet to be encored and given a standing ovation.
Leo Aylen is a pop poet, one of the few whose work looks interesting on the page. Read or sung aloud his stomping rhythms and often ingenious repetitions must be very effective indeed.
Julian Symons, PUNCH
The Candelabra-Nicker
A true story of shoplifting in Harrods
No dingy-mackintosh burglary this.
No cloth-capped corner-of-the-eye edge and ooze.
From padded shoulders to pointed shoes
This tapering triangle of haute politesse,
This Harrods Galahad, unswayed by enticements
Of Eau-de-Nile, or Cadbury's Choc-box,
Processed shining eyed past ormolu clocks
And polythene dustbins, on his grail-like assignment,
Grabbing no peaches, and pinching no grapes.
While he fingers tiaras, largesse in his eyes.
"Signorina" he murmurs "if zere vas a size
To fit your forehead, how could I escape?"
Printing her counter's air with a kiss,
Measures yard upon yard of tangerine satin
And carmine velvet, "My bassroom curtains —
I must buy .. tomorrow" floats his hand off her wrist
To hover, like a blessing, on the candlelabra.
Seven-branched he brandishes his Olympic torch,
Tells store detective "Keep vell vatch,"
And commissionaire "Cab plees, for ze nearest barber."
Shampoo, then home to nut salad with carrots.
Will the candlelabra illumine his wine,
His mistress's bedroom, or his patron saint's shrine?
No. Tomorrow he'll sell it … back to Harrods.
Would you like a signed copy of Discontinued Design? Email leo@leoaylen.com with the name you'd like it dedicated to, and the address to which the book should be posted.
Please pay £7 (£5 + £2 p & p) by electronic bank transfer to: — Lark Books, as instructed here:
From your Online Banking: —
Click  Make a Payment. Click  Set up a new recipient. Fill In The amount you are paying (eg £7.00).                   
Click   Pay a Person. Fill In  Name of Recipient: Lark Books. Fill In  Sort Code: 30-96-35
Fill In  Account Number: 59189760. Fill In  Reference: Your Full Name
Payments such as this can be made through any bank, via on-line banking, without charge.