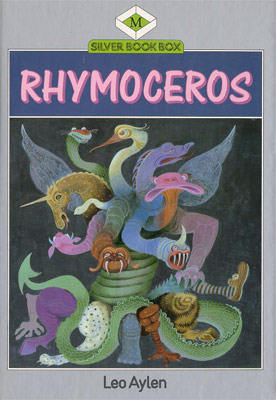 Rhymoceros  (Macmillan) Poems for Children
Many of the poems in this book are included in the Rhymoceros show, notably the title poem Rhymoceros – the monster, huge or tiny, with eleven-toed feet or wearing policeman's boots, able to become a wheelchair – or, possibly, a tin of peaches, with an appetite for chocolate-coated kippers – or possibly toasted bedroom slippers. The book ends with The Apples of Youth, originally commissioned by Chappells as the libretto for a children' opera, telling the story of Idun and her apples which kept the gods young, and how they were stolen by the Winter Giant through the treachery of the trickster Loki. there are riddles, dottidreems,  jingles about the art teacher and Micky Hackett's rocke;,we meet young Darryl who wants to become an actor, not like his uncle who acted Shakespeare with the Batley Town Council players; Darryl wants to do commercials and make lots of money. As well, there are two pages of children's work from workshops following the Rhymoceros show. The book is beautifully illustrated by Julia Heseltine..
One poem, Somewhere in the Sky, has been published many times, and recorded  CLICK ON CHILDREN'S PAGE.
Poetry is …
… what makes you,
Long since buried,
Sneak out of your coffin, out of the graveyard,
To be caught on street corners
Playing exuberantly on a xylophone
You've built from the bones of your skeleton.
Flop
In a bucket of black water
Was reflected a star.
"Stars are enormous, lad,
And ever so far."
While the boy was watching,
Their donkey called Flop
Stuck his head in the bucket of water,
And drank every drop.
"Dad, what marvellous creatures
Little donkeys are.
Flop's belly is extra-terresstrial.
It can swallow a star."
Would you like a signed copy of Rhymoceros? Email leo@leoaylen.com with the name you'd like it dedicated to, and the address to which the book should be posted.
Please pay £9 (£6 + £2 p & p) by electronic bank transfer to: — Lark Books, as instructed here:
From your Online Banking: —
Click  Make a Payment. Click  Set up a new recipient. Fill In The amount you are paying (eg £7.00).                   
Click   Pay a Person. Fill In  Name of Recipient: Lark Books. Fill In  Sort Code: 30-96-35
Fill In  Account Number: 59189760. Fill In  Reference: Your Full Name
Payments such as this can be made through any bank, via on-line banking, without charge.