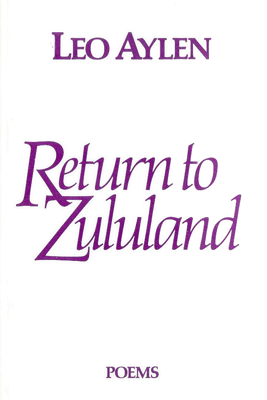 Return to Zululand
The title describes the first half of the book. Leo was born in Zululand, the son of an Anglican priest elected Bishop of Zululand by the blacks, to whom he became a legend for his disregard of racism, and his joyful insistence that the Zulus were not some different species , but his brothers and sisters.
Charles Aylen was in his fifties when he married, and Leo did not have long in Zululand, before the family moved to England. Leo did not return until after his father's death. He was overwhelmed by the love with which the Zulus greeted Charles Aylen's son, and so Leo was able to travel widely and deeply in apartheid-shadowed KwaZulu. This first trip back to the country of his birth gave Leo a psychic energy which has driven all the poetry he has written since then, whether set in Africa, or anywhere else.
Leo Aylen is an accomplished poet. His imagery is tough and earthy. An extraordinary book of portraits.
Michelene Wandor, TIME OUT
Aylen is direct and uncompromising, his language is clear, his English is good, he scorns gimmickry and he projects a sharp image. His work looks interesting on the printed page. Read and sung his driving rhythm would have a strong appeal.
NORTHERN ADVOCATE, New Zealand
Clarity and compelling narrative shape that seizes the reader's attention.
Shirley Toulson, BRITISH BOOK NEWS
Work of outstanding insight. The verse is taut and rhythmic, tightly structured, blossoming frequently into shining, subtle imagery.
Joan Forman, EASTERN DAILY PRESS
Work of outstanding insight. The verse is taut and rhythmic, tightly structured, blossoming frequently into shining, subtle imagery.
Michelene Wandor, TIME OUT
Living-boxes
When families complained of the living-boxes provided
The Minister in Charge replied
That it was unnatural for Bantu stroke Abbo stroke Tribal Indian stroke Native people in general
To stand upright in houses,
Much less to walk around..
"Very inactive, these people" he said.
"Spend their time squatting on their rumpsteak
Staring out into space."
When asked about water, he said:
"Water! They don't need water. That's their secret.
They can go without water or food for days,
Just suck their own lips for the natural moisture."
When starving babies began to die,
He drew our attention to the marvellous process of natural selection.
"That's why they're such a healthy race" he said.
"Survival of the fittest.
I tell you, my friends, that, compared with them,
We're at a real disadvantage."
Would you like a signed copy of Return to Zululand? Email leo@leoaylen.com with the name you'd like it dedicated to, and the address to which the book should be posted.
From your Online Banking: —
Click  Make a Payment. Click  Set up a new recipient. Fill In The amount you are paying (eg £7.00).                   
Click   Pay a Person. Fill In  Name of Recipient: Lark Books. Fill In  Sort Code: 30-96-35
Fill In  Account Number: 59189760. Fill In  Reference: Your Full Name
Payments such as this can be made through any bank, via on-line banking, without charge.