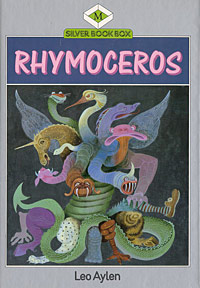 Poetry Collection
Rhymoceros (Macmillan)
Opera
The Apples of Youth (Chappell)
Poetry anthologies for children in which poems of his have been published include Tunes on a Tin Whistle, What makes your Toenails Twinkle, The Sun Dancing, Spaceways, Toughie Toffee, Never say Boo to a Ghost, One in a Million, Does W trouble you?, Crack another Yolk, Nothing tastes quite like a Gerbil, Join In .. or Else, Unzip your Lips, Unzip your Lips again, Good Night Sleep Tight, The Moonlit Stream, The Works, and so on.
His one-man theatrical poetry show Rhymoceros was premièred at the Edinburgh Festival, and then on BBC TV Playschool. It has since been performed several hundred times in theatres, schools, libraries, and other places. It is intended for "children of all ages." It is most often performed to junior schools, but it has been performed on many occasions to infants, and often to a mixed audience of juniors and infants. It has also been performed to twelve-year-olds in middle schools, but this is the upper age range, and Leo Aylen has another poetry show designed for teenagers.
Who or what is the Rhymoceros? Perhaps he is the monster of poetry. He is certainly a monster who has had his portrait painted by thousands of children.
The Rhymoceros
Rhymoceros starts as a theatrical collage, near home, with the infamous infantile astronauts of Foskett Road Junior School. There are true stories of monkeys and burglars; there are punning fantasies. There are opportunities for audience participation. Gradually we are taken into a world of magic and legend, culminating in a powerful recreation of a Norse legend – The Apples of Youth.
Rhymoceros can be performed simply as an entertainment. In schools, however, there is usually a request for follow-up workshops, which are arranged according to the needs and schedule of the school in question. These workshops can be directed merely to produce writing from the children, or they can be used to produce painting, modelling, music, and plays, as well as writing.
Dumdum and the Stikkiback Bird is another theatrical poetry show for Years 5 & 6.
Apart from appearing on BBC Playschool, Leo's media appearances for children include presenting a series of Walrus for BBC TV Education, as well as having a solo programme on the Radio 5 series Wordplay. Also for BBC TV Education he wrote a play about work on a building site.
He is often contracted to give workshops in schools as well as performances. His appearances in schools run into thousands.
He chaired the jury for the 1996 Writers' Guild Children's Book Awards.
One of his poems in the Rhymoceros book, called Somewhere in the sky has been published in six anthologies, including one where it is the title of the anthology  – Somewhere in the Sky (Nelson). It was featured in the 2008 Hong Kong Festival of Speech. It has been translated into Catalan. It has also been published and recorded by a Berlin company, Cornelsen.
Critics, teachers, and children, have said –
LEO AYLEN is a hero in a fancy jump-suit. He is also an able, funny, charming poet. Even better, he has a line in appallingly bad puns. Norse legends are rewritten into jaunty doggerel; primary school brats become the subjects of poetic cycles; tongue-twisting alliterations burst out at show-off speed; lights change and the Lewis Carroll-like Rhymoceros emerges from nonsense verse into growling, prancing reality.
    Catherine Lockerbie, THE SCOTSMAN
Your visit to my school was an experience that I do not feel any of the children will forget.
Cayley Primary School, Stepney
A very successful evening. Such was the state of euphoria which you created, that I forgot to give you your fee!
Benenden School
I recommend his poems because they are funny and active for old and young people. He did brilliant actions.
Tom, age 8, Queen Anne First School
Laughter, amusement
Excitement, anticipation
On to poetry about
Animals with
Yellow tummies
Long lurking leeches mixed with
Eggs, ostrich variety.
Now it's our turn to write!
Pamela, age 9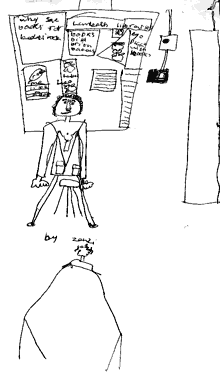 picture by Zoni, age 6Performing in London Festival of Literature,
as drawn by Zonzi, aged six