Leo and his poetry have been the sole subject of three American nationwide commercial television programmes (CBS). These pictures were taken during camera rehearsal for one of the shows, produced by Stephan Chodorov, directed by John Musilli.
Leo and his poetry have also been the sole subject of a television programme on SABC (South Africa). The BBC has made two pilot films on his work. He has performed poetry on radio and TV and in many theatres, on three continents, and in venues ranging from the Albert Hall, St Paul's Cathedral (first appearance there with Christopher Fry and Dorothy Tutin, second appearance with Fenella Fielding), to New York night clubs, California coffee bars, Soweto arts centres, old age pensioners' lunch clubs, prisons, a fairground, and in front of 3000 Zulus on an open hillside. He has made fifteen tours of north America. His one-man theatrical poetry shows include Red Alert: this is a god warning, in which a futuristic space shuttle, whose passengers are watching Star Trek, is hi-jacked by the god Dionysus.
Red Alert: this is a god warning
This has been performed at the Edinburgh Festival (twice), Darlington, Cricklade Festivals, in London theatres — Soho Poly, Tricycle, New End, Orange Tree, as well as in north America. Also Whatever happened to the King of Spain's daughter?, a fairy-tale collage with gardeners, beautiful girls, and villainous barons, in the form of Theme and Variations, like the musical form, its theme here being the nursery rhyme, I had a little nut tree, with music by Courtney Kenny, performed in St John's Smith Square, the New End and Orange Tree theatres, and elsewhere.
In 1999 – 2000 he was Poet in Residence at the Orange Tree Theatre, Richmond, where he gave a number of performances of his own work, including staged readings of scenes from his new verse plays with the actors David Brierley and Patience Tomlinson.
In 2001 he was Poet in Residence at the Byam Shaw School of Art.
From 1995 to 2001 he ran Piccadilly Poets a London poetry organisation presenting programmes of poetry which include themed anthology shows performed by well-known actors, compiled and directed by him, and his colleague Pauline Lisowska. He taught classes in the performance of poetry at The London Actors' Centre, from 1995 to 2002.
Festivals
He has performed at many festivals, including London The Word, Bath, Battle, (2), Birmingham, Cheltenham (2), Cricklade, Darlington, Edinburgh (2), St Ives, Kent (2), Ledbury, Nailsworth, Richmond. One of his poetry shows is titled Why I'm Not A Policeman. He first performed this as part of the University Lectures to the Public Series. He performed it at the 2010 Warminster Festival. .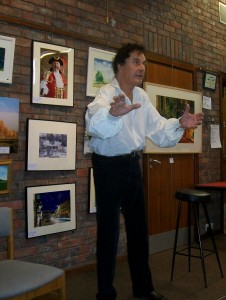 The audience who came to Leo Aylen's talk Why I'm Not A Policeman were treated to an energetic and highly amusing performance which included almost everything else except this explanation.In a rich and varied life, Leo has written films, programmes for TV and radio, but through it all his poetic streak bubbles to the surface.  He is often inspired by real life situations and was once employed by the BBC to write poems about the day's news, some of which he recited.  But Leo's reciting was also a dramatic performance as he took on the character of whoever was uttering the words.  One of the funniest related to the superlatives of an advertising war about new detergents.Amidst the animated company of Leo's vivacious characters the element of international travel was also included.   From New Yorkto Thailand, from Canadato Zululand, Leo's poems ranged from outer space to ancient Greeks, from totem poles to St Aldhelm. An extraordinary amount of energy and verbal agility was needed to complete a saga of hypothetical motorways which obliterated existing cities while creating new ones. The amusing final scenes of his one-minute adaptations of Shakespeare's King Lear, A Midsummer Night's Dream, and Hamlet, summed up well the talents of this versatile and eclectic entertainer.  In thanking him for his performance Librarian Richard Violet described Leo as "zany" – and that may be one good reason why he is not a policeman!
Comment
Such a superb performance. It was funny, witty, poignant, and much more. I haven't laughed or smiled for such a long time. And yet the power of Leo's delivery forced me to do so – and I am so grateful. The Curator of the Library was right when he mentioned amongst other things – Leo's incredible memory. This performance – this delivery and powerful poetry – should be a MUST on any circuit.                                                   (anonymous)
Reviews
In an unusual event, poet Leo Aylen took us spiralling downwards to a brush with death. His poem is taut, alert, deliberate. His non-stop delivery is a tour de force. It is strong, sharp, rhythmic, mainly fast, and punched out hard; his verbal gymnastics — the leaping changes of accents, the sung interjections from Beethoven's Ninth or the Hallelujah Chorus — are incredible.
Ann Nugent, THE STAGE
At its best, live poetry reading is like super-condensed, intense theatre, and Leo Aylen's offering was like a mini drama festival in itself. He writes in such a way that readers of his printed work must hear in them some of his intended pace and accent. But his own rendition is almost perfect, utilising all the genre has to offer in word music, cadence, speed, and aural kaleidoscope. His acting was superb. 
Elaine Durbach, THE ARGUS
A very brilliant performance of dramatised poetry by Leo Aylen. His intellectualism is balanced by a Zorba-like vitality and a fine perception. The vigour of the performance and the imaginative strength of the poetry were outstanding. The juxtaposition of the technological limitations of Man with the boundlessness of the power of God, was most effective. 
Gordon Strachan, BBC RADIO SCOTLAND
Leo Aylen's greatest strength is his vibrant stage personality, which immediately wins his audience. His poetry consists of a series of sketches which are — generally — very funny, and in which he exploits his considerable talents as a mimic to the full. There are messages behind the laughter, though: he achieves genuine pathos with his poem Poor Old Jones, gently satirises bureaucracy, and his scathing attack on South African apartheid froze the audience.
Graham Donaldson, THE SCOTSMAN
An astonishingly powerful performance, as Aylen acts out the death throes of the occupants of a space shuttle as it plunges into the heart of Anti-matter and the welcoming arms of the god of Death, Dionysus. An undeniably brilliant creation, requiring an audience suitably disposed to absorb its serious, though humorously told, warning.
B.M., FESTIVAL TIMES
An entire TV programme devoted to poet Leo Aylen was still not enough for me.
Val Pauquet, THE STAR