Leo co-wrote the screenplay of Gods and Generals, a major Hollywood movie about the American Civil War, (Warner Bros 2003), starring Robert Duvall, Jeff Daniels, Stephen Lang, and Mira Sorvino, directed by Ronald Maxwell, executive producer Ted Turner.
Gods and Generals tells the story of the first half of the war, leading up to the battle of Gettysburg. Lawrence Chamberlain was a professor at Bowdoin College, Maine, but decided to enlist, and then, after a short while, made colonel of a Maine regiment; his action at the battle of Gettysburg ensured a Union victory. In this clip, Lawrence Chamberlain (Jeff Daniels) returns home to tell his wife (Mira Sorvino) that he has enlisted. The scene then changes to the battlefield of Fredericksburg; this was a disastrous defeat for the Union forces, who had to charge uphill against a well-defended confederate position. We see General Lee (Robert Duvall) looking down on the defeated Union army.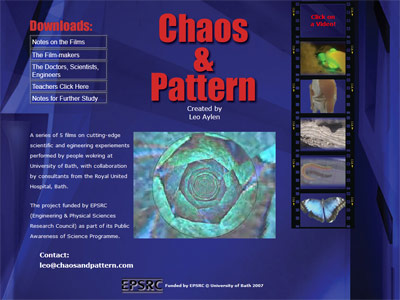 In 2007 Leo completed Chaos & Pattern, a 5-film series of educational science documentaries on cutting-edge experiments in science and engineering, funded by the Engineering and Physical Science Research Council (EPSRC), and aimed at encouraging teenagers to take up careers in science and engineering.
Leo wrote, directed, photographed, and produced, the films, with Michael McCarthy, a double BAFTA award-winner, as sound recordist and dubbing mixer; the editor was Greg Yonwin.
The five films are:
The Chaos Treasure Hunt
The Green Gene
Butterfly Light
Cells & Scaffolds
The Paddleworm Robot
There is also a 6th, compilation, film Chaos & Pattern: Fast Forward which shows sequences from the other 5, plus an introductory sequence with the distinguished astronomer, Jocelyn Bell Burnell, telling of how she discovered pulsars.
The Chaos Treasure Hunt
presents a collaboration between a chaos theory mathematician and a mechanical engineer. They are engaged on what would seem a very abstract exercise, making equations to describe the way in which rocks fold under the stress of geological time. This abstract exercise is of great interest to Australian mining companies who have paid money to the two scientists, for in the interstices of folded rocks there are likely to be precious minerals.
The Green Gene: a biologist has succeeded in reprogramming liver cells into pancreas cells. This could lead to a cure for diabetes; for  if diabetics could convert a small part of their liver into pancreas, they could start to produce their own insulin.
Butterfly Light: another world-beating success story. A physicist has created a new kind of optical fibre in which the light-bearing information travels, not through silica glass, but down a hollow core. This experiment, involving complicated physics and extremely difficult engineering, has already produced a contribution to a Nobel Prize, and one of its side effects has been to create a new science, involving collaboration between physics and medicine.
Cells & Scaffolds shows how cartilage cells can be removed from an injured knee, cultured in the lab, and then reintroduced into the knee to create new cartilage.
The Paddleworm Robot  shows an example of wildly creative lateral thinking: a biomimetics engineer is making a colonoscope-carrying robot that can wriggle in the human guts like a paddleworm – an inch-long many-legged creature found in the mud of estuaries –  and therefore make colonoscopy less difficult and dangerous.
To obtain DVDs, apply to leo@leoaylen.com
FILMS FOR TELEVISION (as writer, or writer-director)
The Drinking Party (writer)
directed by Jonathan Miller, starring Leo McKern, Alan Bennett, John Fortune
The Death of Socrates(writer)
directed by Jonathan Miller, starring Leo McKern;
adaptations of Plato's dialogues.

1065 and all that (writer-director)
an impression of England as it existed before the Norman Conquest.

Dynamo (writer-director)
a life of Michael Faraday, starring Ian Richardson.

China and the Barbarians (writer-director)
how two empires, the British and the Chinese, failed to understand each other, with disastrous consequences.

Who'll Buy a Bubble? (writer-director)
improvised happenings in the East End of London.
Celluloid Love (writer-director)
the story of a model born to a family of artists; with William Walton, Edith Evans, Peggy Ashcroft.
"Steel be my Sister" (writer-director)
the life and work of the poet-painter David Jones; sequences from In Parenthesis narrated by Donald Houston, HTV entry for the Italia Prize
.
Soul of a Nation
(writer)
the life and work of King Bhumiphol of Thailand, the narration spoken by Sir John Gielgud.Leo also created and directed the TV series
Six Bites of the Cherry,
human life in six episodes of poetry and song, each episode containing a specially created dance sequence to poems by Lorca, choreographed by Malcolm Clare who also danced the lead.
He has worked as a screenwriter in Hollywood on two movies: – A Man for Deajum's Wife, and Raven Warrior.
Critics have said –
on Dynamo
Quite excellent.
Maurice Richardson, THE OBSERVER
on The Drinking Party
The Drinking Party" set me reeling happily. I can't recall another programme more likely to start a philosophy boom.
Maurice Wiggin, SUNDAY TIMES
on The Death of Socrates
came off beautifully.
Milton Shulman, EVENING STANDARD
on China and the Barbarians
Sober splendours.
Maurice Wiggin, SUNDAY TIMES
on Who'll Buy a Bubble?
Leo Aylen's absorbing and uncomfortable documentary.
Sean Day-Lewis, DAILY TELEGRAPH
on Soul of a Nation
I enjoyed Soul of a Nation. It conveyed very powerfully something of the strange nature of this unique country. A remarkable achievement.
Bernard Levin, THE TIMES
on 1065 and All That
Leo Aylen's masterly programme
T.C.Worsley, FINANCIAL TIMES
on Gods and Generals
So much that's good about Gods and Generals.
Michael Wilmington, CHICAGO TRIBUNE
An awesome sense of authenticity and scope.
Kevin Thomas, LOS ANGELES TIMES