For Greenwich Theatre Leo wrote lyrics for the documentary musical Down the Arches, and a pantomime, as well as directing his own translation of the Antigone of Sophocles, starring Freddie Jones. He adapted the book of No Trams to Lime Street as a musical (Bill Kenwright tour).
He wrote and directed two plays designed to be staged in churches, with a cast of professional actors and local youth – George, starring Timothy West, for its opening run, and The Adoration of the Magi.
During 1999 – 2000 he was Poet in Residence at the Orange Tree Theatre, Richmond; this included presenting sequences from two new verse plays.
He has shared the stage or microphone with distinguished actors such as Sara Kestelman, Alfred Molina, Dorothy Tutin, and Janet Suzman.
His production of the Antigone of Sophocles at the Greenwich Theatre was a sell-out for its run. For the first time in the modern era, and possibly for the first time since the death of Sophocles, the choruses were properly sung and danced. Leo Aylen's book The Greek Theater describes how the Athenian poet-playwrights, and especially Sophocles who was a champion dancer himself, wrote their lyrics in such a way that they provide a choreographic code. Aylen claims to be able to decipher this code, as he puts it "algebraically: if movement x, then movement y, then movement z." He does not claim to be able to reproduce the precise mime movements which the dancers of Sophocles would have made. But as choreographed for the Greenwich production, the eight dancers – one a prima ballerina for Rambert, one an actor trained in martial arts, one a man with the side-line skill of being a high-jumper, and the rest dancers from the musical theatre – made the chorus numbers both exciting and understandable.
The choreographic code can be read in the original Greek. The only way to retain it in an English version is for the lyrics to be translated isometrically, so that they could be set to same music as the original. If this is done, as Aylen did for Greenwich, then a proper choreography becomes feasible.
The following 5 photographs show some of the movements in the opening war dance.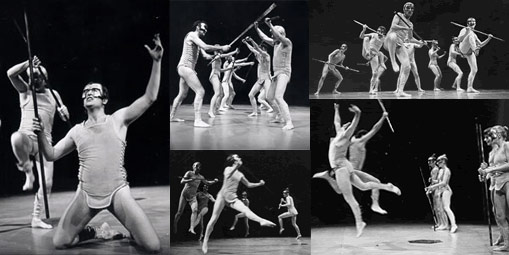 The following 2 photographs show moments the climax of the second chorus dance "The song of man and the city."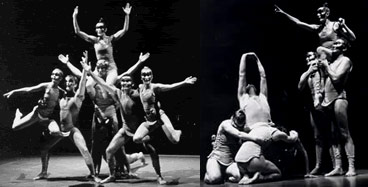 Ampleforth College used Leo Aylen's translation to stage their own production of Antigone. Here are 3 photographs of their version of "The song of man and the city."

Critics have said –
on
George
It was all very well presented, and after last night no one can say that the devil has all the good theatres.
Terry Coleman, THE GUARDIAN
on Hutch-builder to Her Majesty
Embittered sumptuosity of language.
Eric Shorter, DAILY TELEGRAPH
on Antigone
Gymnastic simplicity.
Gary O'Connor, FINANCIAL TIMES
An ambitious and inventive evening
Eric Shorter, DAILY TELEGRAPH